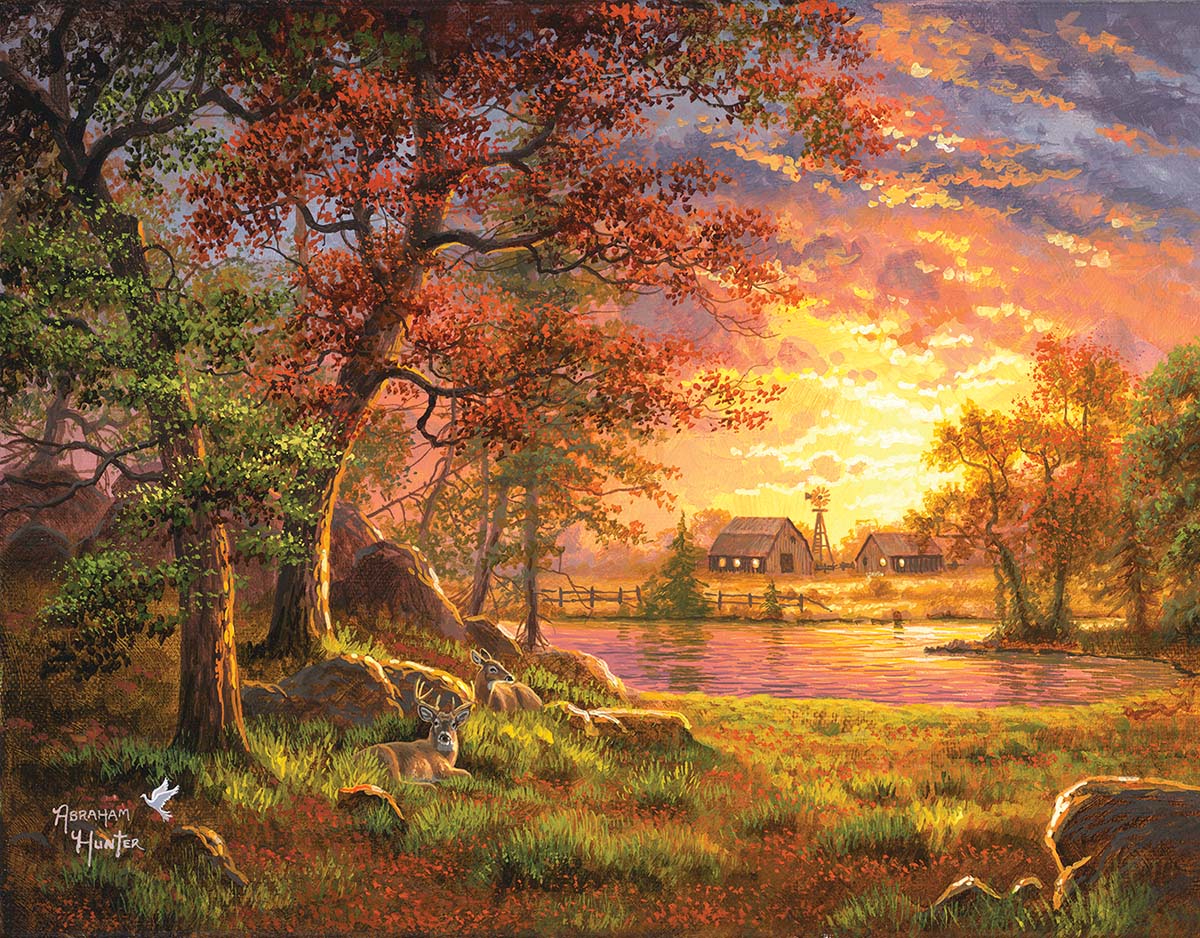 I love puzzles. It's good exercise for my mind. I just finished this one: 300 pieces done in 200 minutes. That's a new record! I need to find a website with larger puzzles.
Putting puzzles together helps me feel calm when life is out of control. It helps me feel in control of something. I can take a screen full of chaos and make something beautiful of it. That's also how I feel when I create things for my micro business Broken & Beautiful Art. The world can and, is, self destructing, but if I can make beauty from the ashes of everything, I'm happy. I find purpose in that. Puzzles are sort of an anchor for my mind when it's racing 1000 miles per hour about 100 different situations and scenarios, most of which haven't even happened. I thank God daily for giving me a sound mind, but sometimes I wish I could slow it down a little because I overanalyze anything and everything. I'm a problem solver – if you can't climb that wall, find a way through. I'm constantly thinking of ways to improve upon my daily care and keep everything running smoothly 24 hours a day, 7 days a week. Some days are complete disasters due to factors outside of my control, and I feel vulnerable. I really hate that feeling. So I read and put together puzzles because it changes my perspective to see that God is in control and my mountains are molehills in the grand scheme of life.
The people of planet Earth are currently going through things that seem better suited for a science fiction novel. A pandemic called the Coronavirus has entered the scene and left a ginormous path of destruction wherever it goes. People are scared and helpless. Many are out of work due to government mandated shut downs. Markets are empty and for some reason people really love toilet paper. I will tell you why many are fighting over miniscule items: they feel helpless and have a desperate need to be in control of something, anything… Even if it's a darn bottle of hand sanitizer.
The Coronavirus is a respiratory illness that, in healthy individuals, can manifest itself in flu-like symptoms such as (but not limited to):
Runny nose
Sore throat
Cough
Fever
Pneumonia
I am immunocompromised and have a fragile respiratory system. I may as well have a tattoo on my forehead saying come at me COVID-19. I picture this virus as the Terminator with both barrels loaded saying I'll be back. I am taking every precaution possible to stay virus free, but I still feel rather helpless about the risk of getting sick. I can't control this situation which leaves me feeling frustrated and vulnerable. But you know what? According to doctors I should have died twenty-seven years ago and I have defied every single odd thrown my way. Science can't explain how I've not only survived but thrived in 29 years. Even physicans have to call me a medical miracle! God has carried me through moments where I should have died time and time again, which makes me think that His purpose for me is bigger than I could ever imagine.
God has sustained me for twenty-nine years and I truly don't think He will stop now. BUT if that is His will, He is still good!!! Read that again. This world is in a disasterous downward spiral indeed, but God is all about taking disasters and turning them into glorious tapestries that radiate His love. There's only one catch: we must let go of what we think we can control in this life and give Him the reigns.
I can control very little in this life, but I refuse to allow that to dictate my joy. God knew about the Coronavirus before I was concieved in my sweet mother's womb. He knows the number of hairs on my head, how many sleepless nights I'll ever have, and how many victories I will ever have through Him. He is never surprised. So once again I enjoy taking the back seat in life and just let God use me for His glory. It really is the most wonderful adventure! You should try it. Now, I think I'll find a new puzzle to solve. Bye for now…